Thunderstorms
Thunderstorms

A thunderstorm, also known as an electrical storm, lightning storm, or storm, is a form of weather categorised by the presence of lightning and thunder. Along with this, these storms are often associated with heavy rain or hail. A lightning storm is a Cumulo-numbus cloud, with a build up of different electrical charges.
Flight conditions may include moderate to severe turbulence, icing, possible lightning strikes, and severe wind shear at low levels.
There are approximatly 16 million thunderstorms a year around the globe.
Requirements
Strong atmospheric instability through a deep layer of air
Moist air or an adequate moisture supply
A 'trigger' action which causes the initial upsurge of the unstable air
A mechanism that will produce sufficient electrical charge differences.
Stability
Stability refers to what an airmass will tend to do if it is pushed up by a 'trigger'.
Stable air = if an airmass is disturbed, it will tend to return to its original position
Unstable air = if an airmass is discturbed, it will tend to keep going.
E.g. if air is pushed up as it passes over a mountain range, it is stable if it subsides once it crosses that mountain, and it is unstable if continues to rise after it passes the mountain.
Moist air
The moisture in air depends on the surface it is above. If air is over an ocean for example, moisture will evaporate into the air mass, making it more moist.
Triggers
A trigger is something that pushes an airmass away from its path of travel. This could include:
Air passing over a mountain range
The sun heating the ground, causing the air above it to rise
A front, pushing the warm air upward
In all these cases the air gets pushed upward.
Electrical Charge
Differences in electrical charge can occur when air particles rub against each other. The cause of electrical differences in thunderstorms is highly debated at present. Lightning is the atmospheric discharge of electricity. This is accompanied by thunder. Lightning can travel within the cloud or between the cloud and the ground. According to Wikipedia 1, lightning can travel at speeds of 60,000 m/s, and can reach temperatures of 30,000 degrees celcius.
Stages of a Thunderstorm
A thunderstorm will go through 3 different phases in its life cycle.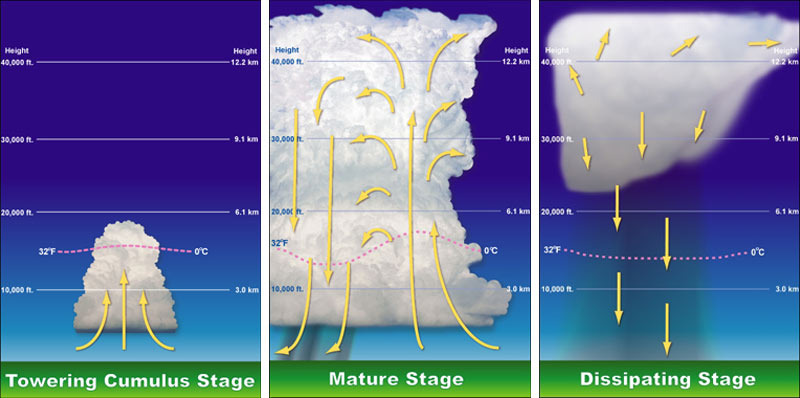 Precautions for Flight in Thunderstorms 2
The golden rule, for both comfort and saftey, is to avoid thunderstorms whenever possible.
However greater understanding, modern design and improved techniques allow most medium and large passenger jets to fly through thunderstorms provided some basic rules are followed:
1. Choice of height
Fly above them if possible. Avoid flying under the base of thunderstorms unless you are happy the visibility and turbulence are acceptable. Light aircraft should avoid areas of thunderstorms and should land as soon as possible to wait for thunderstorms to pass through the area, rather than flying through them.
2. De-icing equipment
It is prudent to switch all anti-icing or de-icing equipment on at an early stage, rather than waiting for icing conditions to become apparent.
3. Airspeed
This should be reduced to below minimum turbulence penetration speed. This speed is published in the aircraft flight manual.
4. Security
Make sure passengers are wearing their seat belts and that freight is securely strapped down.
5. Flight controls
In some aircraft it is advisable to switch off the autopilot. This will depend on what is advised in the aircraft flight manual.
6. Tracking
A line of thunderstorm clouds should be crossed as close to right angles as possible, so that minimum time is spent within them.
7. Radar
Use airborne radar if equipped. Aim to fly between storms or avoid them altogether, rather than flying straight through the middle.
Recent lightning strikes on Aircraft in New Zealand
Metro III: 5 May 1999
During an instrument approach into Wellington International Airport, the aircraft was hit by a lightning and all electrical power was lost. The pilots decided to do the missed approach and climbed to visual condition using the limited back-up instrument. Partial electrics were then restored. However, a left engine fire warning light came on just after partial electrics were restored. The pilots decided to shut the left engine down and diverted to Woodbourne.
SAAB SF340A: 6 October 2000
During a descent to join for an Instrument approach of VOR/DME via the arc at Nelson, the pilots spotted an active thunderstorm cell showing on their airborne weather radar that prevented them from joining the approach. The pilot had to deny the approach and requested for another instrument approach via the overhead. As they were descenting pass 9700 ft towards overhead VOR/DME beacon, the aircraft was struck by a lightning. Both generators on both engines failed. The EFIS display and autopilot also failed. The pilot had to fly using the standby instrument 90 seconds before the generators were restored. During that time, a compass was found to be 40 degree out of the actual magnetic heading dur to the lightning strike magnetizing the nose gear leg. All systems were restored once the generators were reset. When the aircraft landed, it was found to have significant damages on its rudder, hydraulic pipe fairings, and aircraft skin.
Q300: August 2008
On a climb out from Palmerston North just after a takeoff, the aircraft entered a light hail shower and was struck by a lightning in the nose area. The airborne weather radar was clearly showing the adverse weather on its screen, but the aircraft was still low which made the crew unsure to identify whether what they saw was really the weather or ground clutter off the ranges. Luckily, no systems failures and no damage were found.
Videos of Thunderstorms
Above is a video from NASA of thunderstorms as they look from space.
Video embedded from YouTube on 10 August, 2009
This video shows a thunderstorm developing on a hot sunny day.
Video embedded from YouTube on 11 August, 2009
This video shows a wall of cloud from a supercell thunderstorm approaching the area.
Video embedded from YouTube on 11 August, 2009
References
1.
Wikipedia (2009).
Thunderstorms.
Retrieved from the world wide web, August 10, 2009:
wikipedia
2. Wagtendonk, W. (2003). Meteorology for Professional Pilots. Bay of Plenty, New Zealand: Aviation Theory Centre (NZ) Ltd.
3. Vector Magazine (2009). Thunderstorms and Weather Radar. The communication and safety education unit of the Civil Aviation Authority of New Zealand. March/April.
Want to know more?
A database with further information on thunderstorms.
Further information on how lightning occurs.
Information on severe thunderstorms
---
Contributors to this page
Authors
Flyer_86 does not match any existing user name

Teerawit Pulpinyo
Proof-readers
page revision: 14, last edited: 11 Oct 2011 08:13