Mongolian Civil Aviation Authority
---
MCAA Logo. (image embedded from Photobucket on 20 October August 2011)
Brief History of Mongolian Civil Aviation Authority
The history of Mongolian civil aviation industry is inseparably linked with the history of Mongolian Air Force. May 25, 1925 – the day of first landing of Y-13 (Yonkers) freight aircraft invented by German designer Gugo and presented by former Soviet Union to Mongolia, is considered as the foundation day of Mongolian Air Force (MIAT, 2011)1.
The Agency of Air Affairs, first organization responsible for managing civil aviation activity of Mongolia was established in 1957 and until 1980 was under the Ministry of Defense of Mongolia. In 1980 it was reorganized to Civil Air Transport Administration under the Council of Ministers of the People's Republic of Mongolia and worked until 1989 (MCAA, 2011)2.
Mongolia has become an ICAO contracting state in 1989. This fact and the development of civil air transport, an expansion of Mongolia's relationship with other countries and the requirements to operate flights that meets international standards raised a question of re-organization in Mongolian civil aviation sector.
In August 10, 1993 the Minister of Road, Transport and Communication passed an order No.180 on re-structuring of MIAT Mongolian Civil Air Transport Corporation. By that order the Mongolian Civil Aviation Authority (MCAA) was established, a main goal of which was government surveillance to ensure civil aviation safety, aviation security and providing air traffic services and the operation of airports (MCAA, 2011)2.
Objectives, roles and functions of the MCAA
The MCAA is a government agency charged with professional oversight and regulation of civil aviation activities in Mongolia. The MCAA is obliged under the Civil Aviation Law of Mongolia, to direct its activities toward ensuring civil aviation safety and security (MCAA, 2011)2.
Under the Civil Aviation Law of Mongolia, the MCAA is exercising the following powers:
setting up aviation safety regulations/standards compliance with Annexes of Chicago Convention and present them for approval or registration to relevant authorities and control implementation thereof
resolving matters relating to air navigation service charges;
collecting, publishing, exchanging and distributing aviation related information, and collaborating with others in these matters;
disposing incomes, under the related laws, derived from civil aviation services for the purpose of ensuring aviation safety;
taking preventive actions as submitted by the accident/incident investigation
issuing the reports, safety recommendations.
Mongolia is a large, sparsely populated and landlocked country (CIA, 2011)3. Because of its sparse population and not developed infrastructure, the need of aviation is on high demand. However, the Mongolian aviation industry is relatively small comparing to other developing nations.
Organization Structure, Operating Units and Services
Organization Structure
The MCAA has two main functions: regulatory and service provider. Specifically the MCAA is responsible for providing air traffic services, for the operation of airports, for setting safety standards and the oversight thereof, and for the other regulatory aspects of the civil aviation system.
The organization chart adopted from MCAA website appears as

Figure 1. Organization Structure (MCAA, 2011)2
(image embedded from Photobucket.com on 20 October 2011)
Regulatory Functions of the MCAA
According to Civil Aviation Law of Mongolia, regulatory functions such as the surveillance and oversight for the operation of civil aviation activities implemented by the Aviation Safety and Regulations Department (ASRD) of the MCAA. The Department is headed by the Senior Deputy Director General of MCAA and General State Inspector for Aviation Safety.
The work is carried by 47 staff members in the Aviation Safety and Regulation Department most of whom are professionally qualified as Pilots, Aircraft Maintenance Engineers, Air Traffic Controllers and Lawyers. The ASRD comprises 5 divisions and 1 section:
Flight Standards & Operations Surveillance Division
Airworthiness Division
Personnel Licensing Division
Aerodrome and Air Navigation Division
Rule Making and Rule Registration Division
Administration and Internal Quality Section
From 2001 to 2008 MCAA has developed complete set of MCAR's based on the New Zealand Civil Aviation Regulation System. The MCAA has been successfully audited on their regulatory system by ICAO in 1997, 1999, 2001 and 2010 (ICAO, 2011)5.
Service Provider Functions of MCAA
The MCAA also responsible for providing air traffic services, for the operation of airports. For these purposes the MCAA has two departments within its organization structure: Air Navigation Services Department and Airport Services Department.
Air Navigation Services Department
The Air Navigation Services Department of MCAA, headed by Deputy Director General of MCAA is responsible for air traffic management and services over the territory of Mongolia.
There are both international and domestic air routes over the territory of Mongolia (Figure 3). The 8 international air routes mostly serve over-flying traffic between Europe, and China and Korea (MCAA, 2010)5.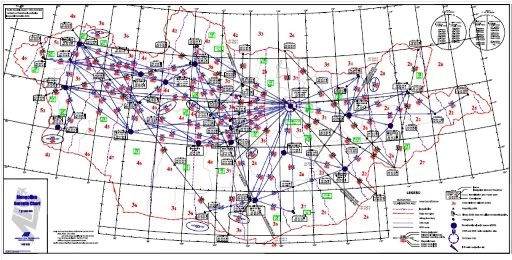 Figure3. Mongolian Air Routes (MCAA, 2010)5
(image embedded from Photobucket.com on 20 October 2011)
Airport Services Department
The Airport Services Department of MCAA, headed by another Deputy Director General of MCAA is responsible for the operation of domestic and international airports Mongolia. The MCAA operates the "Chinggis Khaan" International Airport near capital city Ulaanbaatar and 21 domestic airports. From these 21 domestic airports 5 airports has asphalt runway and 2 airports has concrete runways (MCAA, 2010)5.
MCAA Policy on Human Factors
The MCAA as regulatory body of ICAO Contracting State, established regulatory provisions on Safety Management System. The MCAA ensures that, no-punitive action to be taken against individual employees, in cases where the investigation reveals that the error was an unpremeditated or inadvertent lapse and employs proactive approach on Safety Culture.
 
References
4.
ICAO (2011)
.
Safety Oversight Audit Reports
. Retrieved from
ICAO
on 20 October 2011.
5. MCAA (2010). Civil Aviation Statistical Report for 2009. Ulaanbaatar, Mongolia: Civil Aviation Authority of Mongolia. 2010
---
Contributors to this page
Authors / Editors
---
page revision: 3, last edited: 28 Nov 2011 05:55