Frequent Flyer Program (FFP)
Frequent Flyer Program (FFP)
Most airlines in the world offer their own frequent flyer program (FFP) for their customers now. The FFP has become a common marketing tool and helped the airline increase its sales and the customer loyalty by accumulating mileage points corresponding to the distance flown on that airline.
Normally, the FFP members can exchange their frequent flyer miles for free air travel, goods and services such as upgrade class ticket and airport lounge access (WIKIPEDIA, 20092).
FFP -History
American Airlines was the innovator of the FFP and has begun the first modern FFP, AAdvantage, since May 1981. The initial concept of the FFP was special fares to frequent customers, and American modified it as the customer loyalty program (WIKIPEDIA, 20092). Later, United, Delta, British Airways and others applied the concept, because they realised that the program gives benefits for both customers and airlines.
As a result, a total of 14 trillion frequent flyer miles (= the value of 700 billion US dollars) had been provided travelers worldwide by January 2005 (Hanlon, 20071).
- One in every five or six people in the US is a member of the FFP
- One in every four people in Australia is a member of the Qantas FFP.
There are three key factors that the frequent flyer programs have become so popular in the airline industry are following below:
1. Growth of Global Alliances
An airline alliance offers travelers to reward mileage points by alliance members. It can give more options to choose airlines for customers when they plan the air travel.
2. Popularity of Self-Booking System
The internet enables us to do self-booking and check available flights throughout an airline website anytime. Customers can book flights by their FFP points whenever they want.
3. Expansion of E-business
The expansion of credit card users is one of the successful factors for FFP. People are easy to buy products and services in shops or on the internet. Many airlines offer mileage cards including credit card function system. If the airline's mileage card holders pay the public utility payments for instance, they can even obtain FFP points without purchasing the airline ticket.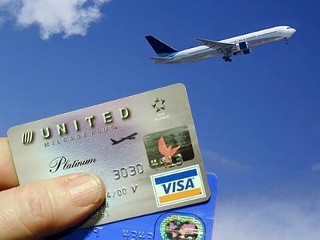 United Airlines' FFP Card
(
Picture embedded from ABC NEWS: FFP card with credit card functions on 4 April 2009
)
FFP - Advantages
Referred from Hanlon (20071).
1. Rewards by an associated airline (eg. free ticket, airport lounge services and exchange for other goods and services)
2. Easy to book a flight and check-in, because the airline has already kept the record of FFP member's personal details.
3. Obtain mileage points by airline alliance members
4. Accumulate points without buying an air ticket if a customer is a FFP member's card holder with a credit function system.
5. FFP points can be exchanged to E-money, so customers do not have to spend their points for only air services.
FFP – Disadvantages
1. The term of validity for FFP is depending on the airline's FFP system. (eg. 12 month, 36 month or unlimited).
2. Frequent Flyer miles are converted differently by airlines, types of ticket and seat class.
3. Accumulated mileage points might be lost if the airline had gone bankruptcy.
4. Complex systems of FFP create short-cuts to save points by some travelers. (eg. Using cheap tickets to fly on specific routes.)
5. FFP mileage points might not be non-refundable if the customer canceled free ticket or other services.
6. Difficult to book free tickets because of limited number of seat available.
(Referred from Wikipedia (20092)).
(Examples of FFP Disadvantage)
The video shows some issues of frequent flyer programs in Qantas FFP.

Video embedded from YouTube on 4 April 2009
Tips for using FFP
Tips for using your FFP Part 1

Video embedded from YouTube on 4 April 2009
Tips for using your FFP Part 2

Video embedded from YouTube on 4 April 2009
References
1. HANLON, P. (2007). Global Airlines, competition in a transnational industry (3rd.e.d.). Oxford: Butterworth Heinemann.
2. WIKIPEDIA. (2009). Frequent flyer program. Retrieved from
Wikipedia
on 4 April 2009.
---
Contributors to this page
Authors / Editors
page revision: 6, last edited: 04 Mar 2010 01:19